Rethink the Profitability Formula
Author, Mike Michalowicz has many great tips on ways to boost your profitability. In Profit First, he explains why a business owner should throw out the traditional accounting formula of  Sales – Expense = Profit. Instead, he claims that a better accounting formula is Sales – Profit = Expenses. Michalowicz explains by flipping expense and profit and paying yourself first instead of struggling day-to-day, check-by-check, you can take "profit first without compromising your business". Covering expenses after setting aside profit "forces innovation, supports sustained growth and skyrockets profits".
Food for thought indeed. While I am not a trained Profit First Professional, I have encouraged my clients to transfer a defined percentage of their monthly receipts into a savings account. Out of sight, out of mind. And at the end of the year, they have been pleasantly surprised at the nest egg that has accumulated.
Add Insight has created a quick infographic outlining Mick Michalowicz's sage advice. Here are 6 steps you can take to boost profitability this year: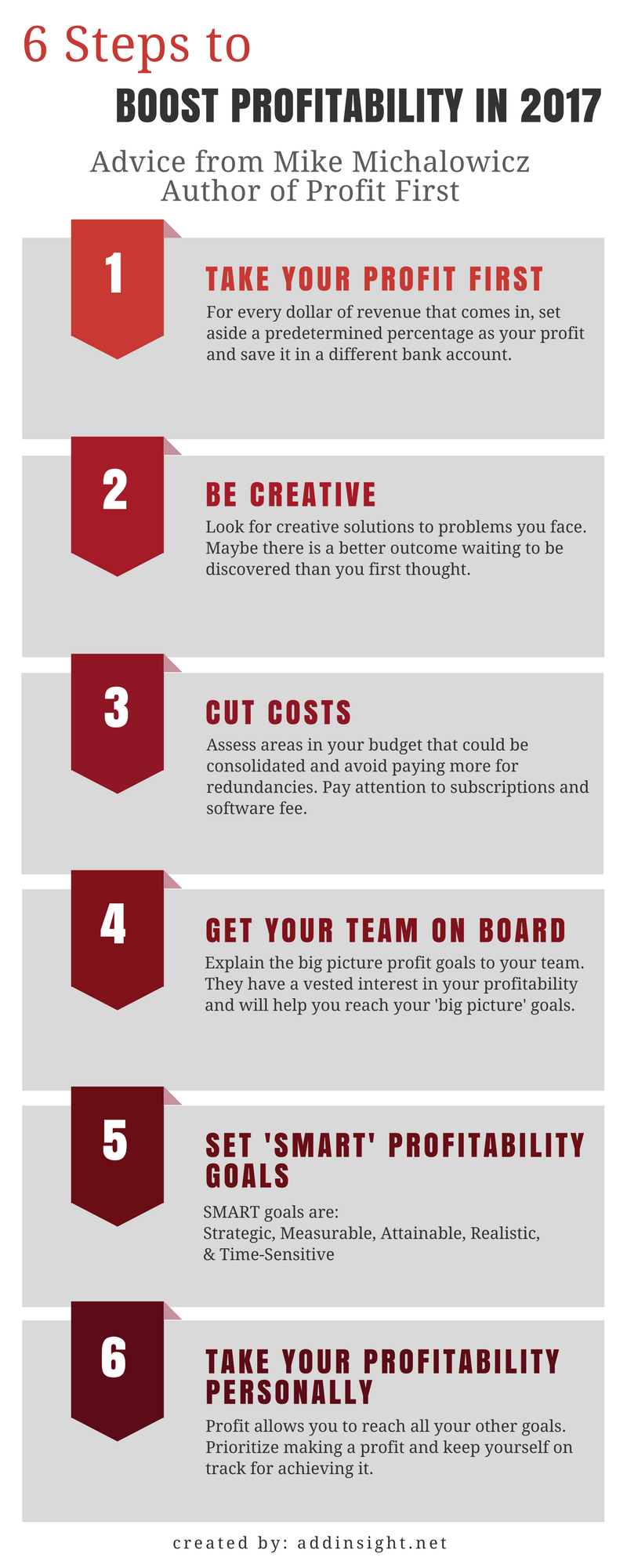 Download a PDF version of this infographic here: 6 Steps to Boost Profitability in 2017_Add Insight Bookkeeping
What More Resource?
Check out these free e-books to get you started:
Books by Mike Michalowicz:
What Do You Think?
We would love to hear your thoughts on this Sales – Profit = Expenses formula. Have you tried paying yourself first? What was the end result, did you boost your profitability? Share your thoughts in the comments section or reach out to us on Facebook (@AddInsightQBO) and use hashtag #profitfirst.