QuickBooks Online Resources
---
QuickBooks Welcome Guide
A quick guide to teach you the basics of QuickBooks Online in 10 easy steps. This is a good overview to skim.
QuickBooks Online Test Drive
The QuickBooks Online Test Drive is a sample website fully loaded with a complete example company. It is a great way to learn QuickBooks Online, test new apps and integrations, and adjust settings, all without the risk of harming your own data.
QuickBooks Online Training Videos
QuickBooks hosts many tutorials and training videos on their QuickBooks University website. There are webinars and courses designed around small business owners.
QuickBooks On YouTube
You can also access a full list of digestible video tutorials on the QuickBooks YouTube Channel. There is overlap from the training videos listed above, but the playlist format creates easy viewing.

Check it out here:
QuickBooks Mobile App
One of the best features of QuickBooks Online is the mobile app. Here is a brief video training to get you started. It is simple to snap pictures of receipts in the moment and attach them to expenses. It is simple to invoice on the go and receive payments. When you first learn QuickBooks Online it is best to learn the app at the same time, so a natural integration of your workflow can take place.
QuickBooks Online Small Business Resource Center
This is a great site to know about. The QuickBooks Online Small Business Resource Center offers practical business advice and step-by-step training tailored to your needs. Search by topics such as, cash flow, expenses, and invoicing. Or read up on preparing tax documents or starting a female owned business.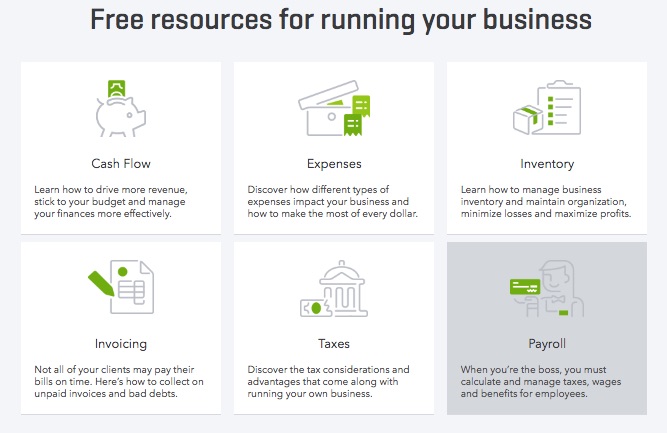 QuickBooks Online Downloadable Guides
---
QuickBooks Detailed Training Guide
For a more in-depth training guide geared towards people who are new to QuickBooks Online, look here. Broken into 5 courses, you can more easily navigate through by topic if you are searching for a specific topic and not an overall training.
Here you can download each course individually:
Course 1: Getting Started
Course 2: Navigating QuickBooks Online
Course 3: Recording Transactions in QuickBooks Online
Course 4: Reporting
Course 5: Expanding Usability
Read more about QuickBooks Apps we love.
If you would like to know more, please fill out our contact form and we will be in touch.