What are QuickBooks Apps?
Check out this short video for an explanation. There are far too many apps to outline on our website, but here you will find a curated list of training tools for the apps we are currently using at Add Insight to improve workflow and integration for our clients. Take a tour and learn about each one. Click here for general information about QuickBooks App integrations.
Navigating the App Ecosystem:
Trying to navigate the vast app ecosystem can be overwhelming. That is why we are here to help make sense of all the noise. Add Insight only recommends apps that are beneficial to our client-bookkeeper workflow. If the app reduced data entry or allows for more automation we are all in.  We appreciate how technolgy can improve our lives and are always on the lookout for the next best app.
Here is a helpful visual overview of the app ecosystem provided by Accountex USA: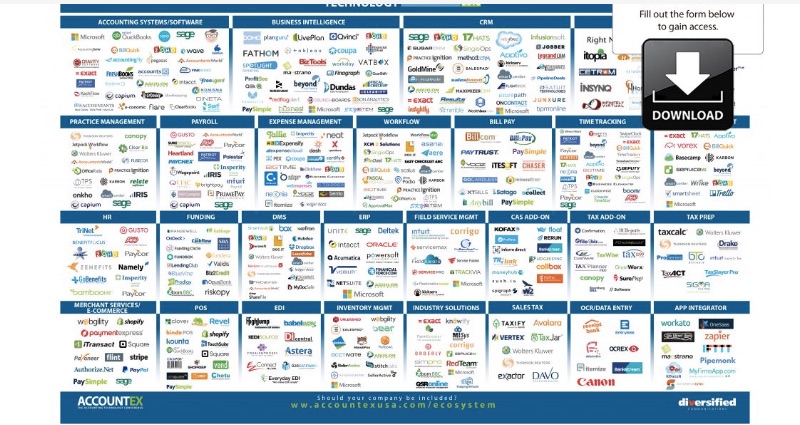 You can click here to download the full-size guide.
If you are curious about what apps we are using regularly scroll down to learn more.
QuickBooks Integrated Apps We Love:
---
Acuity Scheduling
By Acuity Scheduling Inc.

We love Acuity for its intelligent online scheduling for client meetings: Automate your client bookings, cancellations, reminders & payments with one click (and zero frustration), so you can know what sanity feels like today. After all, you're here to make yourself money, not make yourself crazy. (That's where we come in.)
Float
By Float

We love Float for its intelligent, real-time cash flow forecasting: How much cash will you have in the bank tomorrow? Next week? Next month? Float integrates seamlessly with QuickBooks to automatically create a cash flow forecast to give you this insight. Faster and simpler than Excel. Plus it never goes out of date!
Gusto Payroll
By Gusto Payroll

We love Gusto for its smarter online payroll and benefits processing: Gusto is the easiest way to pay employees and contractors. As a full-service payroll service, we take care of all payroll tax payments and filings on your behalf. Every time you run payroll, total wages and taxes are synced with QuickBooks Online.
HubDoc
By HubDoc, Inc.

We love HubDoc for its document syncing workflow, assisting us with our client: Your key financial docs (and their data) seamlessly synced with your accounting.
No Data Entry, No Filing
Stop Chasing Bills and Statements
Syncs with Your Accounting
Simplify, Go Paperless
MileIQ
By Mobile Data Labs Inc.

We love MileIQ for its mileage tracking app, perfect managing transportation expenses on the go: Automatic drive detection makes it easy to capture every mile you drive. Say goodbye to the headache of manually logging every trip. Goodbye to the heartache of leaving dollars on the table when you forget. Hello to the ease of automatic mileage tracking.
Sync with PayPal
By Intuit

We love Sync with PayPal for its automated syncing powers, improving our workflow with clients: The Sync with PayPal free app automatically imports your PayPal sales transactions, fees, taxes, and discounts into QuickBooks.
Sync with Square
By Intuit

We love Sync with Square for its QBO integration improving our workflow with our clients: We are excited to introduce Sync with Square, the latest version of the Square QuickBooks Online Integration from Intuit. With this free app, your Square sales-related transactions are automatically imported into QuickBooks Online.
TSheets Time Tracking
By TSheets

We love TSheet for its many user-friendly features and full integration with QuickBooks Online: Get rid of that punch time clock & simplify payroll, invoicing & job costing with automated time tracking right inside QuickBooks. You'll also get access to mobile time tracking apps, scheduling, GPS, alerts & more. Your #1 tool for hourly employees!
Have a need not met by our list, explore other Intuit vetted apps here.
Read more about training tools for QuickBooks Online.
If you would like to know more, please fill out our contact form and we will be in touch.